---
Edit Your Own Website
Have a simple site to manage? With some easy setup, our website editor let's you manage your site.
Contact Us
Our live website editor is as simple as it gets. Just point and click to select any editable content on your web site, make changes and publish them. No need to know HTML, PHP or any other programming language. Just point, click and edit your text! You will be able to view your changes before you commit to publishing them. Sounds easy? It is!!
If you're a web designer with clients, this is the perfect tool for you. All clients wants to be able to edit their website. This way – YOU – control what they can change. No need to install complicated CMS systems. Create the site like you normally would, flag the section(s) that you want your client to be able to edit. That's it! Plus, since our website editor is generic, our website editor works on ALL* sites hosted ANYWHERE. Our website editor gets out of your way and lets you design websites the way you want to. Use your favorite design tools and create. There's no need to install any software and you never have to worry about updates. The only requirement is an FTP connection.
Our website editor comes with a multitude of great and helpful features, including support for page templates, full source editing, per-page permissions, change notifications, user activity monitoring, a Google Analytics dashboard, and much more. To top it off, we're always adding new features to make your life easier.
*The editor doesn't work with database driven sites such as WordPress.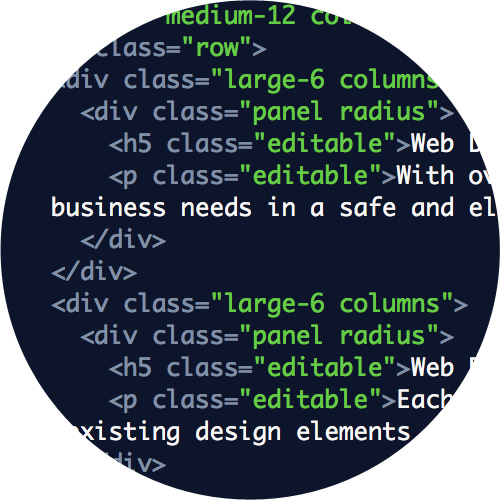 1. Design the Site
Use your favorite design tool to create your site. Many of our customers use popular web design apps such as DreamWeaver and Expression Studio but you can use just about anything you want. You can even hand-code your site from scratch if that's your style.
2. Add Regions
Add class="editable" to the parts of your page you want client(s) to be able to edit. Only the content inside these regions will be accessible, so you can ensure your designs won't break when changes are made. You can make anything from an entire div to a single img editable.
3. Add Users
Once your site is online, we will add the site to our editor and enable the pages you want to be editable. Then we add your client(s) and specify which pages they're allowed to edit. We can even set privileges for each person so they only have access to the features you want them to.
4. Start Editing!
That's it. Now your clients can safely edit their own sites and you can sit back and enjoy some extra free time.
Ready to try it out?