T1 & Bonded T1 Overview
The ability to adapt to change is key to a competitive business. It's also key to Netwood's T1 service. With a full T1 or Bonded T1 line from Netwood, you can easily and cost effectively increase bandwidth as your business expands. Our bonded T1s offers speeds up to 12Mbps/12Mbps (8 bonded T1's).
Add to your business, add to your bandwidth.
We can bond 8 T1's so you can get speeds up to 12.0 Mbps in both directions, with a guaranteed availability of 99.99%.
| | |
| --- | --- |
| FULL T1 | BONDED T1 |
| 1.5 Mbps | Speeds of 3, 4.5, 6, 7.5, 9, 10.5 and 12 Mbps |
Full-duplex transmission of data
Priority data routing
100% throughput and 99.99% uptime SLA
Scalable, Reliable, Traditional Business Broadband
Netwood's T1 and Bonded T1 services are designed to accommodate expanding businesses.
T1 Benefits
Service Advantages
Prioritized Data Routing
T1 traffic gets priority routing over DSL traffic.
Robust Service Level Agreements

99.99% uptime service-level guarantee and 4-hour response time SLA
Rated for the full line rate that you purchase

Mission-Critical Performance

Frame-to-ATM inter-networking technology allows customers to receive the dedicated bandwidth of a point-to-point connection
Data is protected by nationwide redundant private network

Scalable Bandwidth for Growing Businesses
Bonded T1 services provide fast, reliable T1 service with speeds up to 12 Mbps. Bonded T1 lets you increase bandwidth as needed, without a huge increase in costs. Bond multiple T1 lines and save 75% over fractional DS3.
Bonded T1 Technology

All the benefits of T1, including 100% throughput and 99.99% uptime SLA
Enables up to four 1.5 Mbps circuits to operate as a single connection
Choose speeds from 3 Mbps up to 12 Mbps

Nationwide Coverage and Support
Alllows multi-location businesses to scale with a single provider.
T1 & Bonded T1 Coverage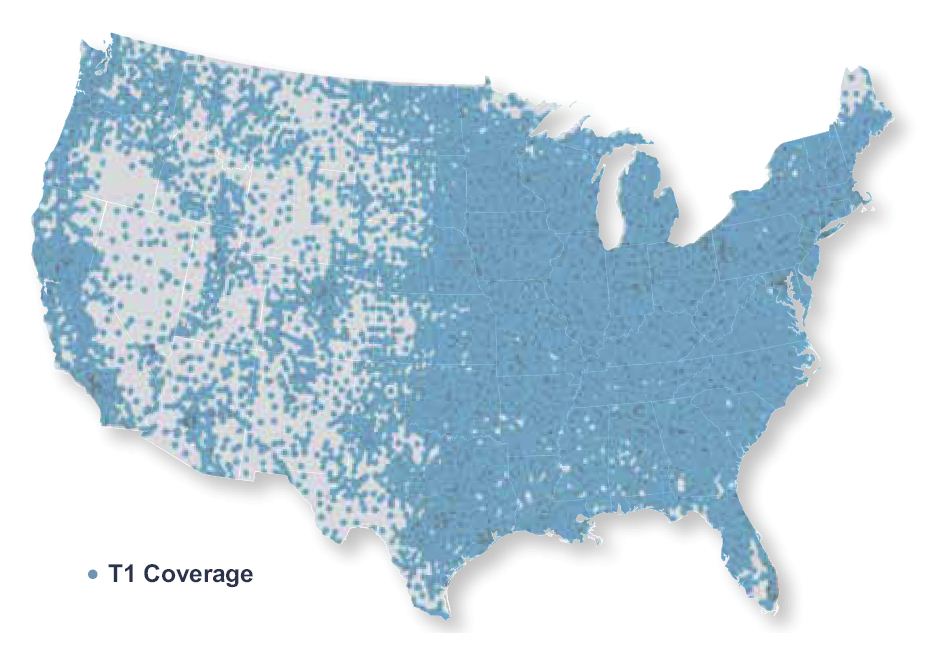 Frequently Asked Questions
What is Bonded T1?
A T1 is an industry-standard 1.5 Mbps circuit used to carry voice and data packets. Bonded T1 consists of up to four 1.5 Mbps T1 circuits that behave as one circuit. Speeds are available up to 12 Mbps.
How does Bonded T1 work?
Bonded T1 uses inverse multiplexing to use the full capacity of the bonded circuit. Inverse multiplexing (IMUX) divides traffic from a single bit stream among multiple circuits. This means that traffic from a single source is distributed across the individual circuits to make use of the 3 Mbps, 4.5 Mbps,  6 Mbps, 7.5 Mbps, 9 Mbps, 10.5 Mbps, and 12 Mbps of bandwidth.
Where is Bonded T1 available?
Bonded T1 services are available nationwide in all major metropolitan markets where single T1 is available.
What hardware is required?
All required hardware is provided by us as part of your T1 service.
If you already own a router you would like to use, please work with us to determine if it is compatible:

The router must be network compatible.
The minimum memory suggestion is 128 MB of SDRAM and 32 MB of Flash.
The CPU must be fast enough to pass traffic at your chosen speed.

What T1s can be bonded?
T1 circuits must be 1.5 Mb T1 circuits on the same POP and at the same customer location.
What is the installation process?
The individual T1 circuits will be professionally installed within 30 days of order placement. We will contact you to set up a time to walk through the installation process.